Knowing where to start when creating a boat dock can be tricky. How can you design something that is both useful and beautiful? Do you need to leave room for other features? In what ways will it interact with the environment and local climate?
There aren't many distinctions between creating a boat dock and a standard deck, even though the boat dock may appear to be a highly technical and complex construction to design. But this should no longer worry you because you have come to the right place. Make sure to continue reading until the end to know the best residential boat dock designs for you.
What Is A Residential Boat Dock?
A residential boat dock is a structure made from wood and metal and used for parking boats and other boat accessories. Additionally, it can also be used as a platform for fishing, picnic, or going for a walk to relax. For this reason, many residential boat dock owners would want to plan out their chosen design to enjoy its simple luxury.
Before planning out the design, it is imperative to know what type of residential boat dock you own to make the design suitable for the dock. There are two kinds of boat docks: the floating dock and the stationary dock.
Using floats, a floating dock drifts on the water's surface. Many items, including dock floats and plastic barrels, can be used as floats. On the other hand, stationary boat docks use pile foundations that are embedded in the ocean floor that support them. These docks are better protected from storms because they are elevated above the water.
Questions To Consider When Designing Residential Boat Docks
Consider asking these questions first to ensure you only use suitable designs for your boat dock.
How many rafts or boats would you like to be allowed to park at your dock?
Would you like to keep items on the dock? If so, you'll need enough room.
Do you want the boat dock to be a spot of entertainment?
Do you prefer your boat dock to be slightly shaded or completely exposed to the sun?
Will you need railings to keep people safe?
Do you require a passageway or a ramp to access your dock?
If you have identified the answers to these questions, now is the time to start choosing the designs for your boat dock.
5 Best Designs For Residential Boat Docks
Take inspiration from these best designs and find which among these is most suitable for your boat dock.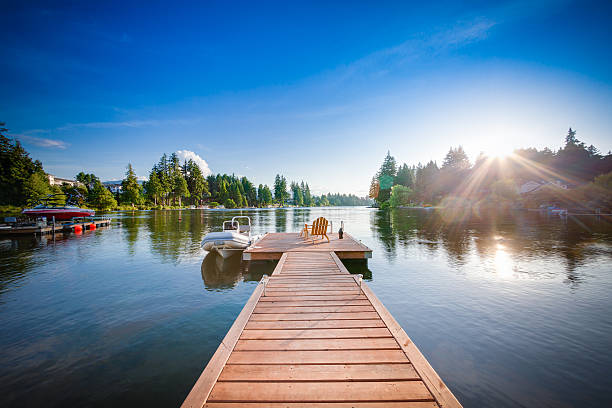 The Minimalist Design
This design is a super-stylish dock that creates a modern minimalist look with uncomplicated lines and natural elements. Boarding your boat is simple, with one stride down the water. A covered area is also ideal for placing a few convenient outdoor furniture.
You can add wide deck boards add a sense of luxury, while the angled passageway to the coast adds attention. But remember that you'll have to stroll over the grass to get to the dock. If you live in a rainy area, you might favor a more decent path.
The Form Follows Function Design
This extremely functional design offers more than enough space for multiple mooring boats. The wavy boardwalk is encircled by mooring posts wrapped in weather-resistant bamboo. The deck's surface is textured to offer a non-slip surface. The wooden structure is simple and sturdy enough for the tropical climate. While there is no shade or roof, the low profile will combine with the surrounding landscape.
The Geometric Style
This design would benefit greatly from any place where there is a significant shift in water levels between the high and low tides. The extensive path avoids swampy banks and keeps feet dry and clean.
Square platforms at regular intervals offer convenient passing areas and add to the visual attractiveness. Any distance from the shore to the boat might be traveled using the straightforward method.
The Island Style
This dock design is surrounded by water. The intricate walkway layout allows users to deck their boats from every direction. The two-story design also offers shelter for the lower levels and a great pov for viewing the water.
Owners can use paintings like cream colors to contrast the colors of wood.
The Outdoor Living Style
This dock also serves as an outdoor living area with comfortable furniture. Owners can sit and read books or sip a coffee while passing some time.
The accessible stair railing, in this case, is bolstered with mesh to provide a subtle yet secure barrier. Because there is no shade roof or shelter in this design, it will work much better in temperate climates.
Family-Sized-Composite Dock Design
For busy docks, composite decking is ideal. This delightful blueish-gray color scheme is very appealing, and there will be no water damage, scratching, or splintering. The variety of color options available with a composite dock can be a real advantage for homeowners who want their boat dock to complement their home.
Conclusion
The list of the best designs for boat docks is endless. You can customize the design of your choice by utilizing surgical gloves manufacturers in south Africa and some supplies from trusted car accessory wholesale suppliers. Just make sure that in going with the design, you have all things considered to avoid any problems and ensure the safety of the people using the residential boat docks.